Dear Friend,
You are invited to the following event:
RAINDROP BLOOD DRIVE – THANKSGIVING 2021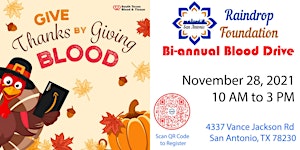 Event to be held at the following time, date, and location:
Sunday, November 28, 2021 from 10:00 AM to 3:00 PM (CST)
Raindrop Foundation San Antonio
4337 Vance Jackson Rd.
San Antonio, TX 78230
View Map

Once again, Raindrop San Antonio is gearing up for our next blood drive with the South Texas Blood & Tissue Center! Join us on November 28th and grab your gift card! Sign up at this link today!
Your continued health and safety is our top priority, which is why we are taking the following measures and protocols: donations are by appointment only, staff and donors are required to wear masks, and adequate social distancing is provided at check-in, waiting areas, and donor beds.
Grab your cape and we look forward to seeing you soon!
Raindrop Foundation San Antonio